Wimmera farmer on top of summer spraying
20/02/2020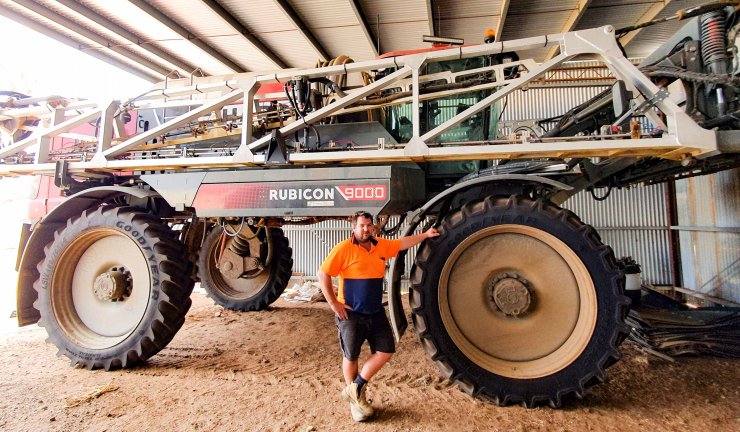 Scott Sommers operates a 4,000 hectare family farm in Western Victoria's Wimmera region, to the south of Warracknabeal.
Between normal rotations he plants wheat, barley, canola, lentils, beans and peas. Less typically, a lot of the crops are cut for hay rather than the cereal.
"We're big hay growers," Scott tells us. With hay demand and prices both at record highs, it's a smart strategy, helped by the fact Western Victoria has just enjoyed a bumper cropping season.
"The challenge for us is staying profitable in an ever-changing environment," says Scott. "It's dealing with climate changes and drought, but we also need to worry about weed control and resistance."
Keeping on top of those weeds is accomplished with a 9000 litre HARDI RUBICON self-propelled sprayer, mounting a 36.5 metre boom.
RUBICON ready to go.
Sommers has had the big sprayer for two full seasons now, and it is rarely idle.
"We use it pretty regularly," he reports, "more than any other equipment like the headers and what-have-you… It doesn't ever get tucked away for long."
With that, however, Scott does admit the RUBICON has just been in the shed for a six week stretch over the harvest period – and he has some valuable tips for making sure it is in top condition as soon as it's needed.
"We've learned to put it away wet," he confides. "It gets properly cleaned after each use, of course, but then we make sure the boom lines are charged with water when it goes back into the shed."
"Don't leave them empty," is his advice.
"By charging the lines, you keep all the seals and O-rings moist so they can't dry out and shrink or crack."
"Guys that don't put their boom sprayers away wet; they'll pull the machine out to start spraying and find there are leaks and problems. Then they spend the next three days running around ordering parts and fixing issues when they need to be out spraying."
Expert maintenance trumps D-I-Y.
Beyond that, Scott is happy to leave sprayer maintenance to the experts and has a close relationship with his HARDI dealer, Wimmera Mallee Ag in Horsham.
"That's not my job," he says bluntly. "My time is better spent working on the farm and we can justify the cost of having Glenn, who is a specialised sprayer technician, come out and service the machine."
The investment in servicing frees up his time to think about operating and optimising the farm.
Sommers has found dealer servicing has other benefits too. The specialised technician brings specialist tools and knowledge to the machine for one thing, and will fix small issues that an owner might overlook 'until next time'.
"They can seem like small things but later become a big issue," says Scott. "It's much simpler to have them fixed while the guy is already there and the covers are off."
"I'm very happy that it's a cost-efficient approach."
He takes a similar approach to nozzle management, simply replacing the entire set during each major annual service, or after spraying a set number of litres or hectares with some compounds.
"My father never replaced a nozzle unless it was broken," he recalls. "Since I took over, we've known that's not right. The solutions can be quite abrasive and when a nozzle gets worn your rates go out the window."
Working smarter to save time and money.
Scott Sommers' carefully planned approach adds ready-to-go reliability to the RUBICON's hectare-eating productivity.
"When we start summer spraying," he says, "I can just get the sprayer out and make sure all the auto greasers are full. I'll put some water in the tank to check the system is running well, and I'm ready to go."
The same care goes into actual application, with careful monitoring of the day's conditions, including temperature, humidity and wind. Often that means spraying from midnight till 10am or so.
"The agronomist tells us what to spray and what rate to use," Sommers adds, "and I've learned not to take shortcuts."
He points out that his decision to invest in a self-propelled sprayer was always about cost efficiency, not speed.
"Once you get to a certain spraying frequency," he explains, "a trailed sprayer almost needs a dedicated tractor. For us, we worked out it was just cheaper to have one machine; to buy the SP."
"Besides, getting over the country faster isn't always better," he concludes.
"The most expensive spray job is the one that didn't work."
And for Scott Sommers, the HARDI RUBICON is all about working smarter.