Beyond Bitumen 2019
30/04/2019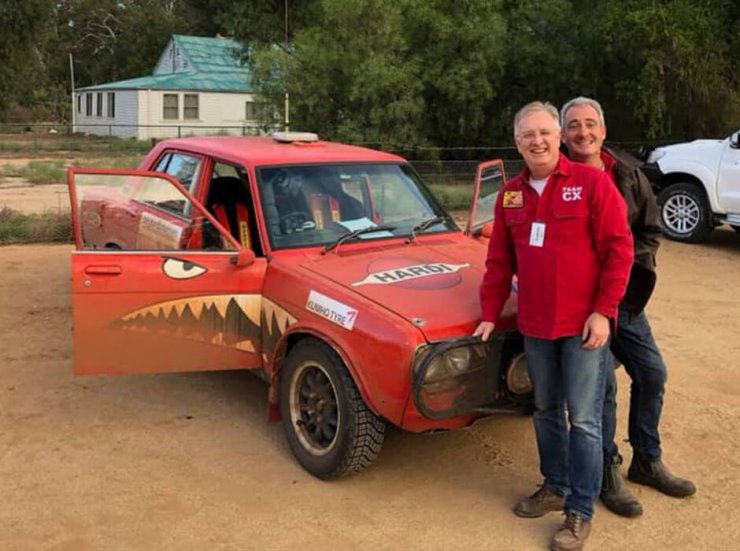 'HARDI Datto' team hits the road for Beyond Blue
For the second year running, HARDI Australia has helped support mental health in the bush by backing a team in the recent 2019 Beyond Bitumen rally.
HARDI Australia again put its weight behind the 'legendary' HARDI Datto – a bright red 1972 Datsun 1600 owned by Qantas Airbus A330 First Officer Andrew Edwards. Andy's rally team includes Qantas A330 Captain Carl Seaver and his wife Carlu, who works as an interiors and food stylist; plus freight forwarder Andrew Hurt and his wife Edith, who works in the not-for-profit sector.
This year's rally was run over some 1,500 km of unsealed forest and farming roads in the New South Wales Riverina between the morning of March 28th and the afternoon of April 1st. Over 100 teams 'drove the dirt' from Yass to Cowra, via Hay, raising more than $450,000 for mental health charity Beyond Blue with their effort.
The Rally seemed to bring some welcome rain along the route, which added to the stickiness of the dirt roads – or their ability to stick to the cars, at least!
The HARDI Datto received welcome comfort and support (and a much-needed wash-down or two!) from local HARDI Dealerships en route – AgLand in Cootamundra, Intersales in Temora, Total Ag in Wagga Wagga, South West Tractors in Young, and Carruthers Machinery in Cowra.
The event was capped off with a fundraising dinner back in Wagga Wagga, which alone raised $95,000 toward the event's total donation to Beyond Blue.
Along with raising money for mental health, it's important to note that Beyond Bitumen also gives money back to the local communities it visits, raising extra cash from meals, sausage sizzles and other events along the way. So it's a great event for all involved.
Given HARD Australia's strong connection to farmers and their communities, we are proud to have supported Beyond Bitumen again. We congratulate the HARDI Datto team, and everyone who got involved.