Big capacity and big support bring HARDI home
24/09/2020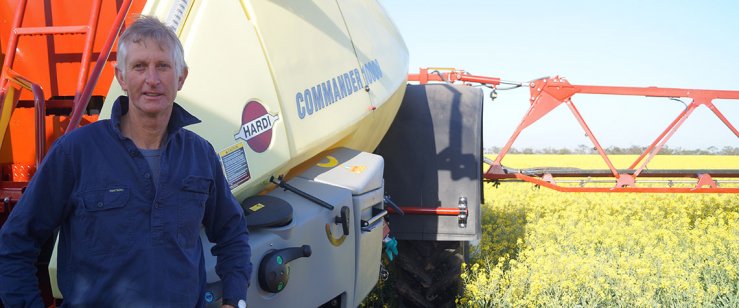 Going after big capacity has delivered a big win for first-time HARDI COMMANDER owner Leigh Weir.
Leigh and his wife Julie farm 2,600 hectares just north of Birchip, in the Victorian Mallee, using a no-till cropping system. They grow 50% cereals and 50% legumes in soils ranging from sand-heavy country to some light sandy loams. Annual rainfall is approximately 375 millimetres.
Leigh says a bigger boom and tank were the main reasons he upgraded from his 6,000 litre Goldacres sprayer to the 10,000 litre HARDI COMMANDER, along with the assurance of outstanding support from his HARDI dealer, Belle-Vue Trading in Warracknabeal.
"The boom sprayer is a critically important piece of machinery on our farm," he says. "You never stop spraying."
The Weirs have only had their COMAMANDER 10000 since June 2020 but already Leigh says he has sprayed fungicide over his lentils, insecticide over his barley and fungicide over the barley as well. He is also very busy spraying herbicide for weed control.
"Glyphosate-resistant ryegrass has become a big issue in the area, so now I have to go out and double-knock spray – once with Roundup and then again with paraquat to kill any survivors," he reports.
However, the bottom line is that Leigh is very happy with his new machine. He is the only operator and estimates that he has done at least 10 full tanks since he took delivery.
"I usually spray at about 20 kilometres per hour with the blue 03 HARDI nozzles," he says.
"If I need to manage drift, I'll just slow down and maybe lower the pressure to produce slightly coarser droplets."
The approach does mean weather can limit spraying opportunities, although Leigh has found that even days which give him six hours of suitable conditions are enough to keep on top of the work.
"The 10,000-litre main tank saves a lot of time with filling and a wide boom means I don't have to go over paddocks as many times," he explains.
"I can get two full tanks out in six hours."
"Even at higher water rates I'll cover 2,600 hectares in that time."
The impressive productivity is partly due to Leigh's selection of a 42.5 metre HARDI PARAGON AluminiumBoom. However, the sprayer itself is almost a stock standard COMMANDER.
"I didn't feel it needed spec'ing up because it was already such an advanced system," Leigh says.
"I just chose an HC 8600 control screen along with boom prime, 6-section shut-off and auto-height sensors – which work very well."
Another favourite feature is the dual agitator pumps, which are installed as standard on the 10,000 litre COMMANDER.
"The second agitation pump has been fantastic," Leigh says. "Keeping the granules well agitated, so they can't ever settle at the bottom of the tank, is a real plus."
He also selected the narrow 20" tyre option and had the track width adjusted from 2.4 metres to 2.1 metres, to match his tractor's wheel track. His dealer, Belle-Vue trading, took care of the track adjustment process for him.
"I can't speak highly enough of Matt Bellinger and the team from Belle-Vue," Leigh says.
"I can call any time, including on weekends, and they'll take the time to help me work through the problem – and that's after them investing a full day in showing me through the features and operations as part of the install."
"I'm still new to the sprayer and have a lot to learn," he continues. "But because they know the product inside out, they've been able to help me make the most of the machine and all its features."
"I've found the COMMANDER to be a very good, well-balanced sprayer – even with the big tank and wide boom," Leigh says.
"It's exceeded all my expectations… I really like it."