HARDI Triple Tier Spray System
30/07/2019
Several farmers have asked us when HARDI will introduce a 'three tier' spraying system for our booms. And the short answer is – any time you want it…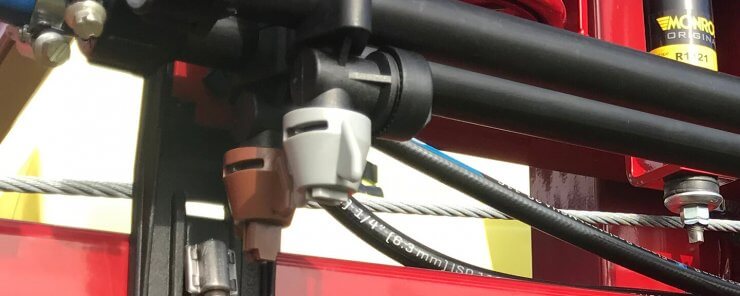 HARDI has plenty of experience with dual line booms and are happy to configure and install our 'Triple Tier' system to suit your needs. There are many of these set-ups operating all over the country.
Essentially the system allows you to switch between two sets of nozzles on the one boom, giving you more flexibility and control in the field. No more heading back to the shed every time conditions change.
Choosing which nozzles you use can be done from the cab using your HARDI or ISOBUS controller.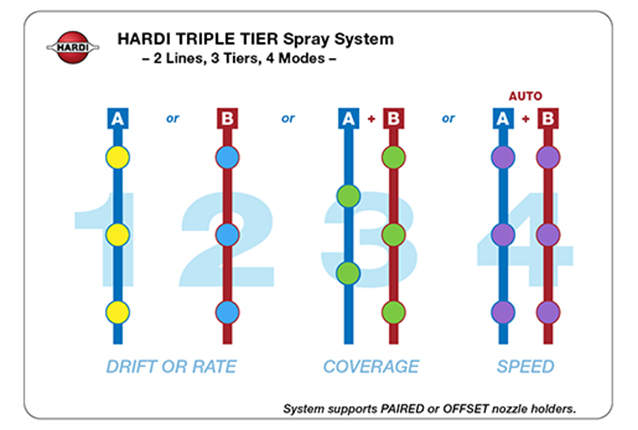 Two lines, Three tiers, Four options
The two lines, A and B, give you three options ('tiers') for spraying – Line A, Line B, or both Lines A + B. Nozzle bodies can be installed side by side or staggered for a 25 cm offset.
(We usually recommend side-by-side nozzles. A staggered arrangement means one line has to finish 25 cm short at each end of the boom.)
So by setting your boom up with different nozzles you can use the Triple Tier system for easy:
Drift Control – by fitting different types of nozzle (e.g. Flat Fan vs Air Induction) on each line, you can change droplet size as conditions change.
Rate Control – by fitting different ISO-sized nozzles on each line, you can switch flow rates between paddocks or crop rows.
Coverage Control – by fitting smaller nozzles and activating both lines together, you can apply smaller droplets more intensely, to suit the crop density or target pest.
Speed Compensation – in AUTO mode the HARDI Triple Tier System will automatically switch Line B on and off as fluid pressure fluctuates with rpm.
Triple Tier to the next level
While HARDI Triple Tier works as a simple and cost-effective way to take control of your spray days, it really comes into its own when paired with HARDI ActiveAir nozzle switching.
ActiveAir uses electronic solenoids along the boom to enable air-driven, drip-free nozzle switching with constant fluid recirculation. ActivAir lets you control the HARDI Triple Tiered spray system through a single boom line – saving weight and complexity.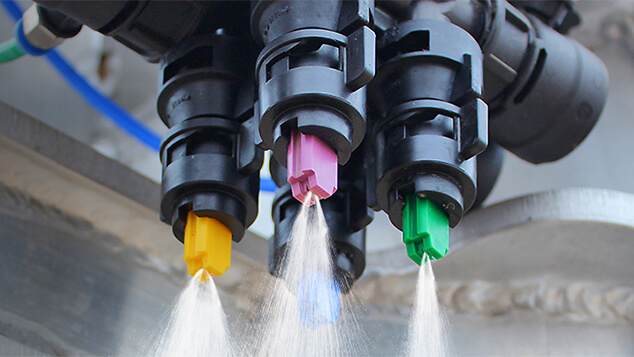 And for the ultimate expression of Tiered spraying technology, you can't go past HARDI H-SELECT – currently offered for our HARDI RUBICON and SARITOR 62 Active self-propelled sprayers and COMMANDER trailed sprayers.
H-SELECT controls droplet size and application set rate while spraying, by automatically selecting from up to four nozzles per nozzle body.
With all the possible permutations of four nozzles, H-SELECT provides no fewer than 19 Tiers (!) for unrivalled control and accuracy.