myHARDI Resources
30/04/2019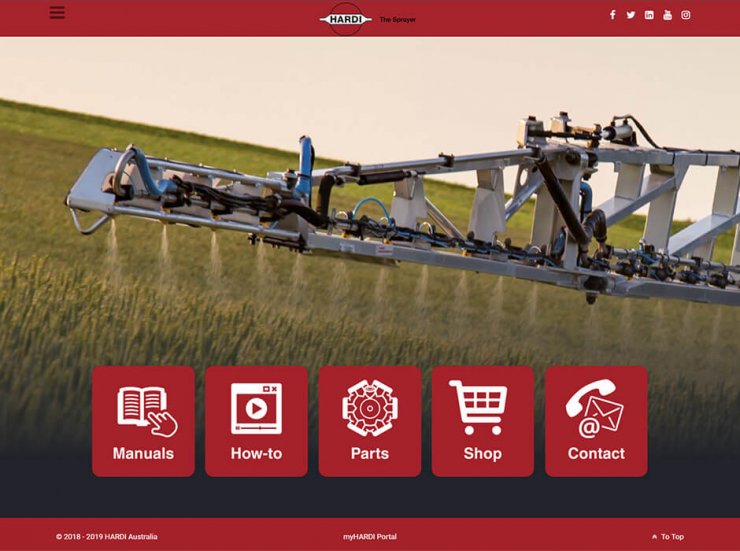 Get info on demand at myHARDI.com.au
The HARDI Australia web portal at myHARDI.com.au keeps growing – and is now a great resource for operating and maintaining your HARDI sprayer.
Most of the information is freely available too - there's no need to register or log in.
Of course, your local dealer is still the go-to option for expert service and advice. But if you just need to see a maintenance diagram, check a spec, or order some replacement nozzles, myHARDI.com.au puts it all right at your fingertips.
The 'Manuals' section includes user guides for most HARDI sprayers, mistblowers, booms, HARDI 364/464 diaphragm pumps and your Vac'n'Mix hopper. There's also an HC5500 Quick Guide, our handy Mistblower Maintenance Checklist, plus information-packed guides to Spraying Technique and Mistblowing Technique from HARDI International.
myHARDI.com.au also gives you a great 'How To' section with videos on everything from making in-field adjustments on your sprayer to upgrading your HC8600 or HC9600 controller's firmware. Often, seeing an expert perform a task is the perfect setup for doing it yourself, especially if you have the right manual on hand as well.
And finally, don't forget our growing Online Shop, where you can quickly and conveniently order nozzles delivered direct to your farm. These include field sprayer, orchard sprayer and backpack sprayer nozzles, plus specialty nozzles for rinsing and cleaning, tank agitation, etc.
We've recently added quality HARDI Handheld or Backpack sprayers to the shop – and soon you'll be able to order common parts too.
myHARDI.com.au has been optimised for mobile devices, so you can make great use of it in your equipment shed or tractor seat, as well as on your desktop PC in the office.
It's an ideal way to make sprayer maintenance clearer and more convenient right through the growing season.