National Ag brings HARDI sprayers to Moree
04/06/2019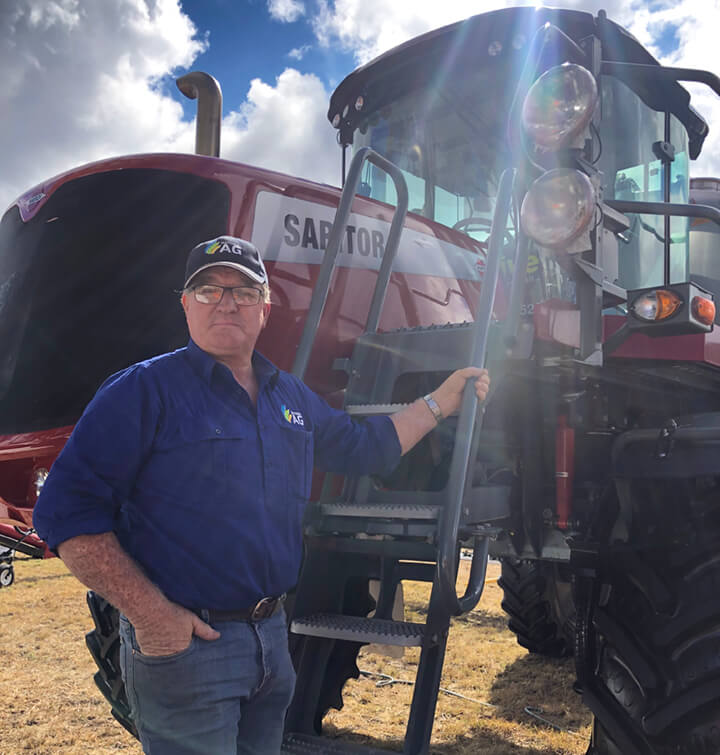 Pictured: National Ag Moree's dealer principal, Colin Underwood,
stands with a new HARDI SARITOR 62 Active self-propelled sprayer.
Moree farm equipment dealer National Ag has announced a new agreement to supply and service HARDI agricultural sprayers in the northern NSW shire.
National Ag will begin offering growers the full range of HARDI trailed and self-propelled sprayers immediately.
Adding HARDI sprayers is an important link for National Ag's "soil to silo" equipment offering. It means the local business can now help growers protect their crops as well prepare, plant, convey and store harvests with grain augers, conveyers, tillers, chaser bins, bag loaders and more.
Along with its large, self-propelled RUBICON and SARITOR 62 Active broadacre sprayers, HARDI manufactures smaller self-propelled machines, trailed sprayers from 1200 to 10,000 litres, linkage sprayers, plus powerful mistblowers for orchard and vineyard operations.
While the Moree area is best known for its broadacre grain-growing, National Ag is confident the HARDI range will be appreciated by regional cotton, fruit, row crop and livestock producers as well.
HARDI Australia employs around 100 people in its Australian manufacturing, testing and logistics facilities in Adelaide, and has over 130 local businesses supplying everything from small fasteners to welded stainless steel main tanks.
By manufacturing and supporting its Australian products locally, HARDI can be highly responsive to the unique needs of individual farmers – whether they require a specially configured sprayer, urgent spare parts or over-the-phone expertise.
The high quality, functional design and advanced spray technologies that go into all of HARDI's sprayers and booms will give National Ag – and Moree Plains farmers – a real advantage.
For more information and contact details, visit National Ag, Moree, at www.natag.com.au