HARDI Self-Propelled Sprayer powers through
11/04/2019
Farming the Wondalli district, near Goondiwindi on the Queensland/New South Wales border, is not without its challenges. But local cattle and cropping farmer Andrew Piedl has found his HARDI self-propelled sprayer performs beautifully on the uneven paddocks, in both wet and dry conditions.
The country around Goondowindi is mostly clay soils, subject to fairly consistent winter rains and typically dry summers. The result is 'melon holes', or gilgai – shallow depressions that are typically 1 or 2 metres across and around 30 cm deep formed by swelling and cracking cycles as the clay wets and dries.
Along with being an added challenge for spray boom operators, the melon holes stay wet and soft for much longer than the surrounding land.
Having worked with a three-point linkage boom sprayer for several years, Andrew has now amassed almost two-and-a-half thousand hours' in his HARDI Presidio.
"It's been a fantastic machine," he reports. "It's done everything we've asked of it."
He's quick to point out increased productivity and reduced time needed to complete spraying as his greatest gains, but also notes that using a purpose-built machine is a lot more comfortable.
"The benefits of a self-propelled machine are just unbelievable," Andrew enthuses. I don't think I'd ever go back now."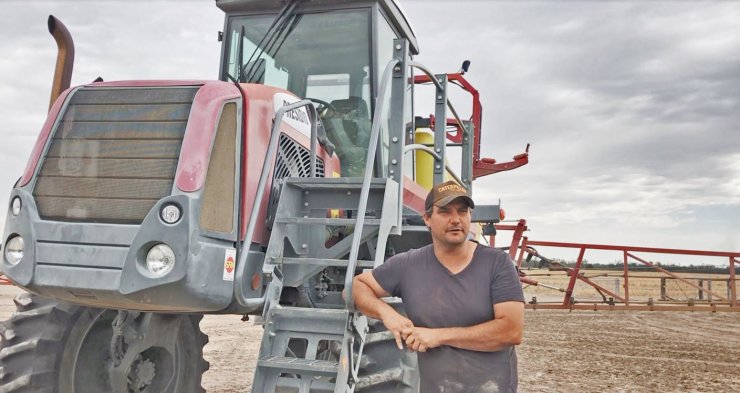 However the HARDI's best work has undoubtedly been in those melon holes.
"The four-wheel drive has been fantastic in the wet," reports Andrew Piedl. "We've gone through melon holes with six inches of water in them and the machine's held it fantastically well."
"It just seems to have that bottom end power to keep pulling through and walk out the other side no worries at all – loaded or unloaded."
While Andrew used to use his judgement when spraying around the melon holes, now he's happy to trust his HARDI sprayer. In fact, he's found he can make more of a mess by trying to steer around soft ground.
"The footprint and the wheel track has led me to go straight through the wetter patches," he says.
Ultimately, the HARDI self-propelled machine's power and agility has saved the Piedl farm money over the years.
"At times we would have needed to use a plane in the past," says Andrew, "but we've been able to use this machine to get through and get the job done without making a mess."
"It's been really good.