W.A. growers get hands-on with HARDI
02/04/2019
Choosing a new self-propelled sprayer is a significant decision for any farmer.
To help bring clarity to the process, HARDI Australia and Western Australia's four CLAAS Harvest Centres have just completed a series of 'Ride & Drive' events with a 9000 litre HARDI RUBICON.
The two-month season of demonstrations began in Geraldton in January and progressed through Northam and Katanning, to finish at Esperance in March.
Local CLAAS Harvest Centre staff were supported at each venue by HARDI's Western Australian representatives Tom Slatyer and Kev Mangham, who would provide farmers with in-depth technical information and systems knowledge.
Mr Slatyer said the growers appreciated being able to drive the sprayer themselves.
"Farmers like to look new equipment over, get their hands on the machinery, experience the handling, and have their questions answered one-on-one," he said.
The value of the test-drive opportunity was underscored by farmers taking full advantage of the chance to put a 9000 litre RUBICON through its paces.
"People always want to try spraying at high speed on challenging terrain," Mr Slatyer reported, "and the RUBICON continually exceeded their expectations."
"A stand-out day was on heavily undulating crab-hole country in Mingenew," he said. "The land-owner uses a 36m boom on his current sprayer – and he was blown away by how much more accurately the RUBICON could maintain the target height with its 48.5m boom."
"It was a very clear demonstration of how he could boost his productivity."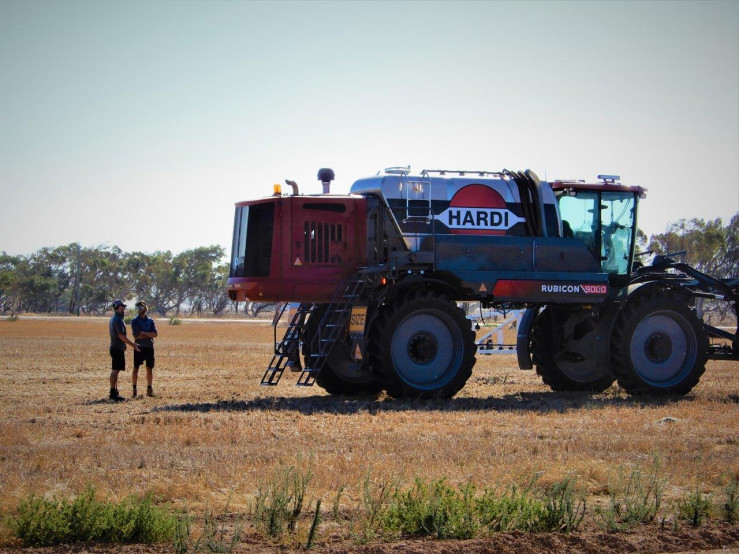 Although the summer program wasn't without its challenges, from dry weather to a DFES emergency in Esperance, there were zero failures or other incidents. Plenty of growers took advantage of the opportunity to test-drive a RUBICON without the boom once clipping a fence or the ground.
In all, the two HARDI reps transported the demo machine more than 4,000 km and served as 'driving instructors' whenever farmers took the controls to experience the technology, features and in-field handling for themselves.
"There's just no better way to see how a sprayer really feels," pointed out Mr Slatyer. "And it gives growers a clear benchmark for comparing HARDI's locally configured machines against the big imported brands."
"Getting together with WA farmers is also a great way for HARDI Australia and CLAAS Harvest Centres to listen to their needs and show how our local presence can support them," he added.
"And that's what it's all about."
A further Ride & Drive event is scheduled for Geraldton on the week of April 15th. Interested farmers should contact Tom Slatyer (HARDI) on 0427 790 360) or Natasha Marques (CHC Geraldton) on 0475 825 035 to take part.
Mr Slatyer added that farmers can request a Ride & Drive at any time during the year, simply by calling him directly or contacting their nearest CLAAS Harvest Centre.