A salute to HARDI Australia's spanner master
One of HARDI Australia's special advantages is all our long-serving staff. Even after 10 years, you can still be 'the new guy' or girl around here – and that means product knowledge and spraying expertise really is part of our company DNA.
A great example of that dedication is Stephen Briggs – 'Briggsy' – who may be retiring today. When we asked him what he had planned, he said "Nothing special. I'll just see how I like it."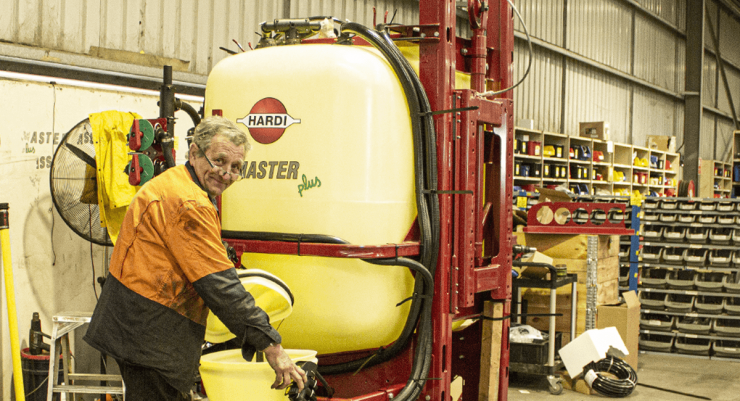 And if he doesn't like it? "I'll go back to work." Briggsy is a man of few words.
Originally a motor mechanic by trade, Briggsy joined HARDI 21 years and 3 months ago as an Assembler. Back then, there was only one factory building and no test shed. However Briggsy says the biggest growth he's noticed in the size of HARDI's machines.
"The biggest sprayer we made was a 4,000 litre trailer," he recalls.
"And that was on a dual walking-beam axle with spring suspension." The self-propelled machines we make now are a big step up from those days.
What he says hasn't changed is the people that make HARDI Australia what it is. "It's a good work environment, with good bosses," he says.
But his favourite part of the job was the variety. Despite his official 'Assembler' title, Briggsy's mechanical skills made him something of a jack-of-all-trades around the Assembly Shed, Parts Dept. and Test Shed. If you needed something done, asking Briggsy was a sure way to get results.
The HARDI Australia team will miss that willingness when Briggsy heads off to tinker on his beloved Chryslers and Fords from next week.
If we're lucky, he won't enjoy it too much…