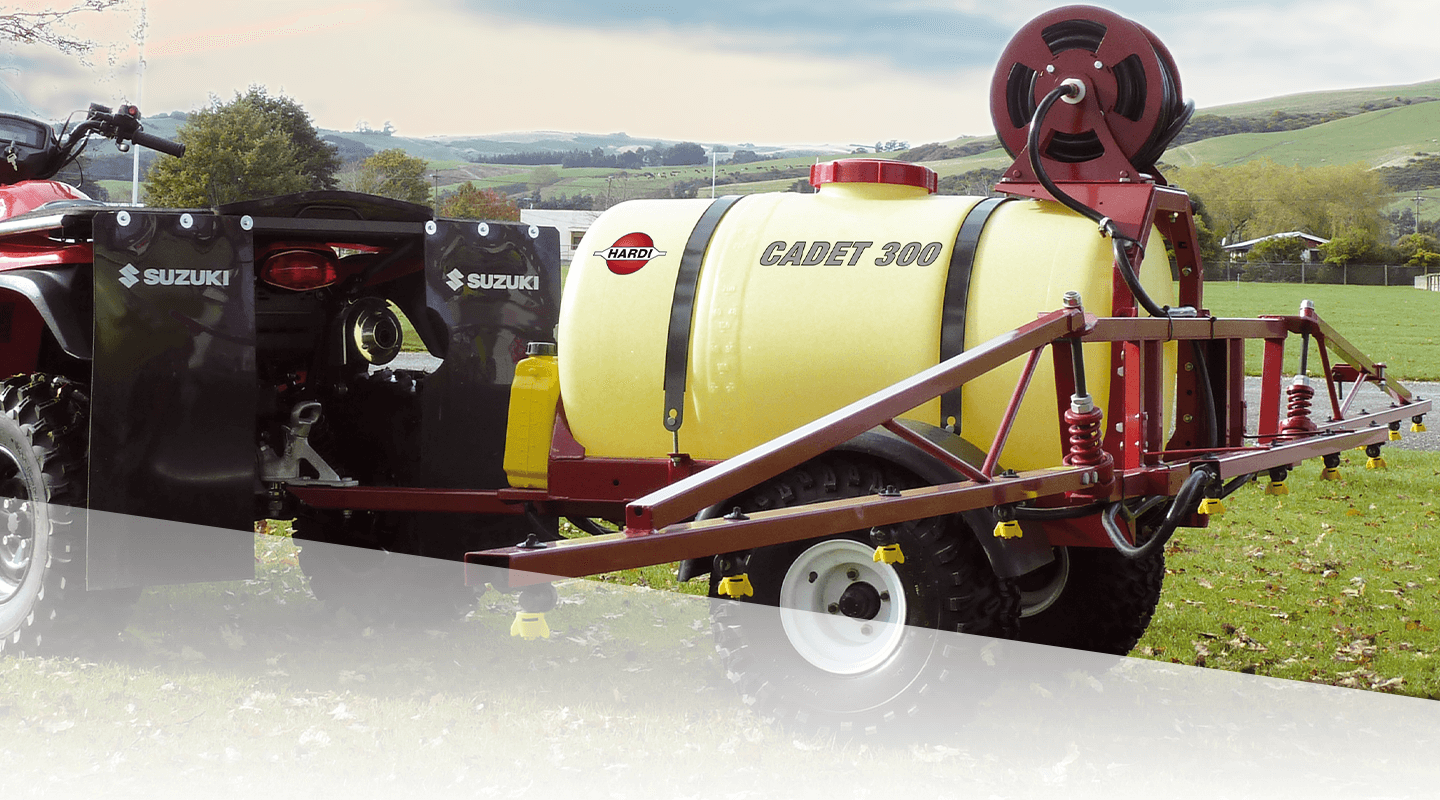 Cadet, Estate
Tank Capacity
120 / 300 / 400 l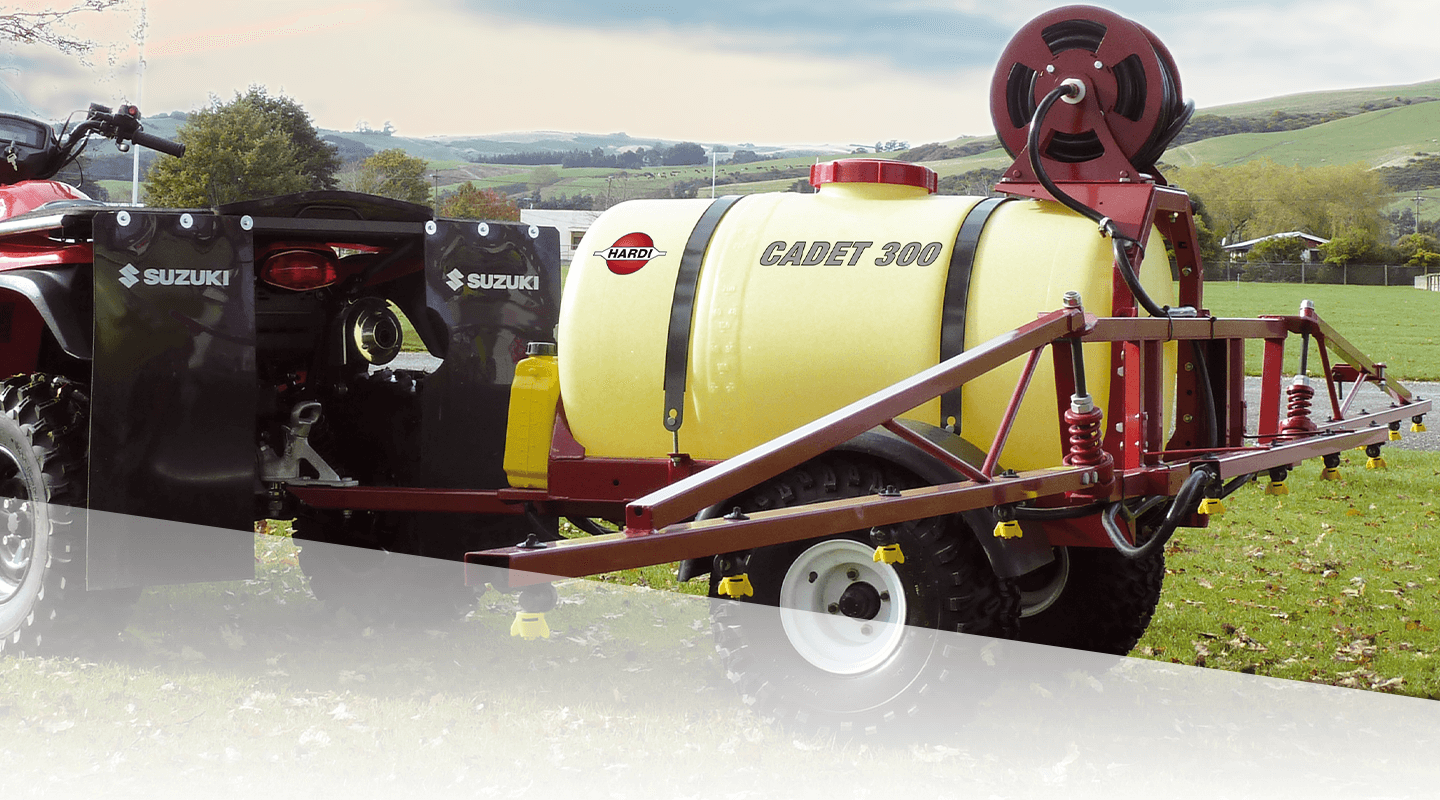 Tank Capacity
120 / 300 / 400 l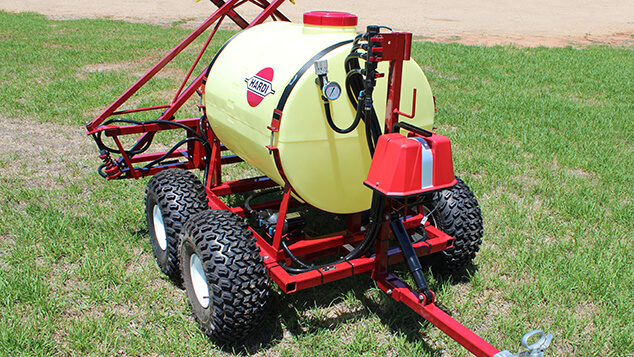 ATV/UTV 400 Tandem Axle
This light trailed sprayer is an excellent alternative to small linkage sprayers, where capacity is essential but towing is preferred. A standard 50mm trailer coupling provides easy connection to any ute or ATV.
The relaible 12V Flojet pump can be powered from the vehicle, and delivers 16.1 l/min at 60 psi. Pressure regulaton, pressure gauge and three-way boom distribution are all standard. A choice of 6m or 8m boom is available, along with a 60S handgun and 6m or 20m hose.
The terrain following drawbar, heavy duty tandem axle and low pressure 22 x 11.0 floatation tyres make this a true go-anywhere small sprayer.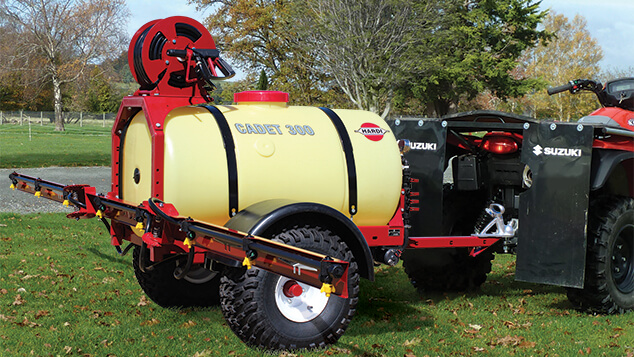 CADET 300
The 300 litre heavy duty single axle CADET sprayer has leaf spring suspension and high floatation tyres, making it ideal for farming, turf care and professional garden maintenance.
The sprayer is powered by a reliable 12V Flojet pump with a pressure regulator and gauge, plus a removable 4 litre hand wash tank. A spot-spraying 60S handgun and 6m hose reel is standard, with a 20m hose option. You can also choose a 3m, 4m or 6m spray boom for efficient area coverage.
Additional features include a heavy duty chassis, standard 50mm towbar coupling, external suction filtering and a long-lasting, UV-resistant polyethylene tank.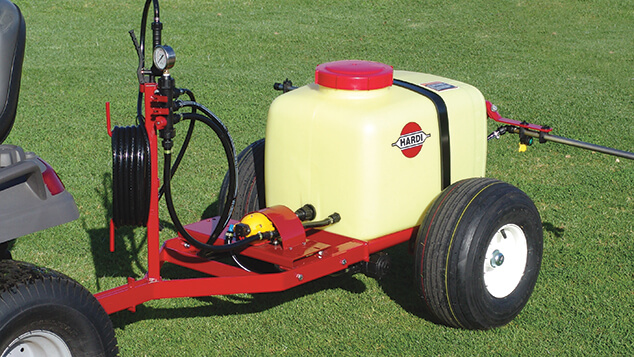 ESTATE Pro 120
The ESTATE Pro 120 is a serious turf care sprayer with 120 litre capacity and a foldable 2 metre boom. A 6m hose with optional 60S hand gun or spray lance allows precise spot spraying.
Designed to be towed by ride-on lawnmowers, the long drawbar makes for easy towing and a smooth ride.
The fluid system is powered by a 12V Flojet pump which is protected by a suction filter and delivers up to 7.6 l/min at 3.4 BAR. Pressure regulation, pressure gauge and boom distribution valves are also standard.
ESTATE Turf 120
The ESTATE Turf 120 is ideally suited for use with ride-on lawnmowers and makes maintaining weed free lawns a breeze.
The compact design provides 120 litres capacity with a 12V Flojet pump delivering up to 7.6 litres per minute at 3.4 BAR. The fluid system includes a suction filter to protect the pump, plus simple pressure regulation with a gauge and boom distribution valve.
A filter basket is fitted under the tank lid to reduce sediment intake when filling.
Spraying options include a 1.5 m boom, and 6 m hose with 60S hand spray gun or 1.5 m lance.
Get our Small Sprayers brochure
See all the information about the HARDI CADET, ESTATE and SWIFT including full specifications, in-depth information and much more!
Download the Small Sprayers brochure