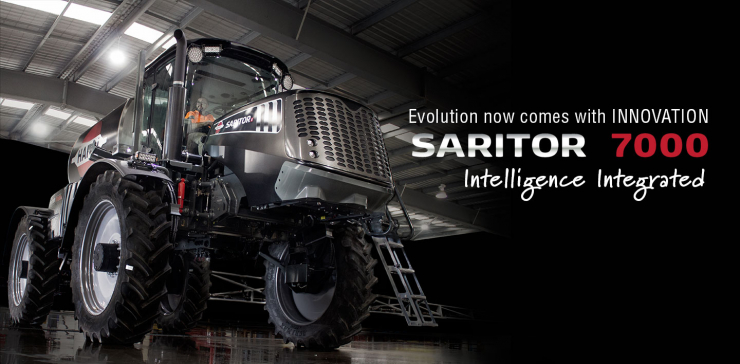 New SARITOR is dedicated to superior spraying
Next-generation SARITOR 7000 is easily the most sophisticated self-propelled sprayer you have ever owned, right from its stunning satin black laser cut-grill with integrated LED light bar. The infinitely variable four-wheel drive is controlled by efficient hydrostatic transmission, powered by a 300HP Cummins QSB 6.7 litre Tier III diesel engine. Fixed track width options from 3.0 to 3.5 m allow SARITOR to adapt to your tramlines and ensure lateral stability for the boom.
Unrivalled ride for operator and boom

Four ride-level air bag suspension elements and hydraulic shock absorbers ensure all day operator comfort and a smoother boom ride. AutoHeight boom height and stability control, while ActivAir fast nozzle activation delivers absolute precision for turns and section control. Choose from a range of HARDI steel and PARAGON Aluminium boom
options, from 36 m to 48.5 m.
The operator is at the centre
Sleek new bonnet lines lead back to a completely re-imagined cab. Fatigue-beating comforts include a heated leather operator's seat cab and a new refrigerator for the day's supplies. Even the exhaust stack has been redesigned to enhance visibility and reduce cabin noise.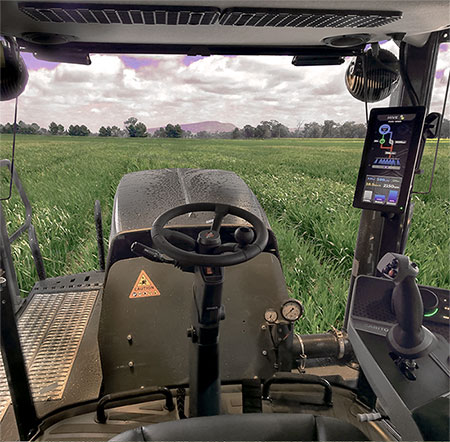 Join the HIVE mind
The cabin also features an intuitive new control console with a focus on reducing clutter. High quality components and a clean, clear layout. The heart of the cab is the new HARDI Integrated Vehicle Experience – 'HIVE'. This advanced control system includes a completely remodelled armrest console with integrated dial and joystick interface, plus a head-up display that displays critical information at eye level, enhancing situational awareness inside and outside the cab.
Clearer, more efficient filling

The 'HIVE' concept extends to the filling station, with its new HIVE system screen. This displays clear filling information plus a set of visual guides and videos, so farmhands can master filling the SARITOR quickly and safely.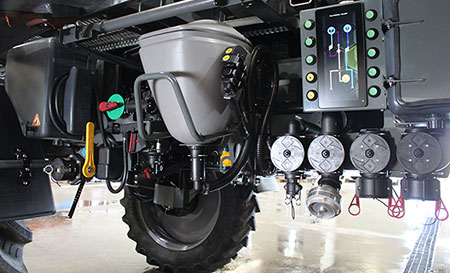 Get your SARITOR 7000 Brochure