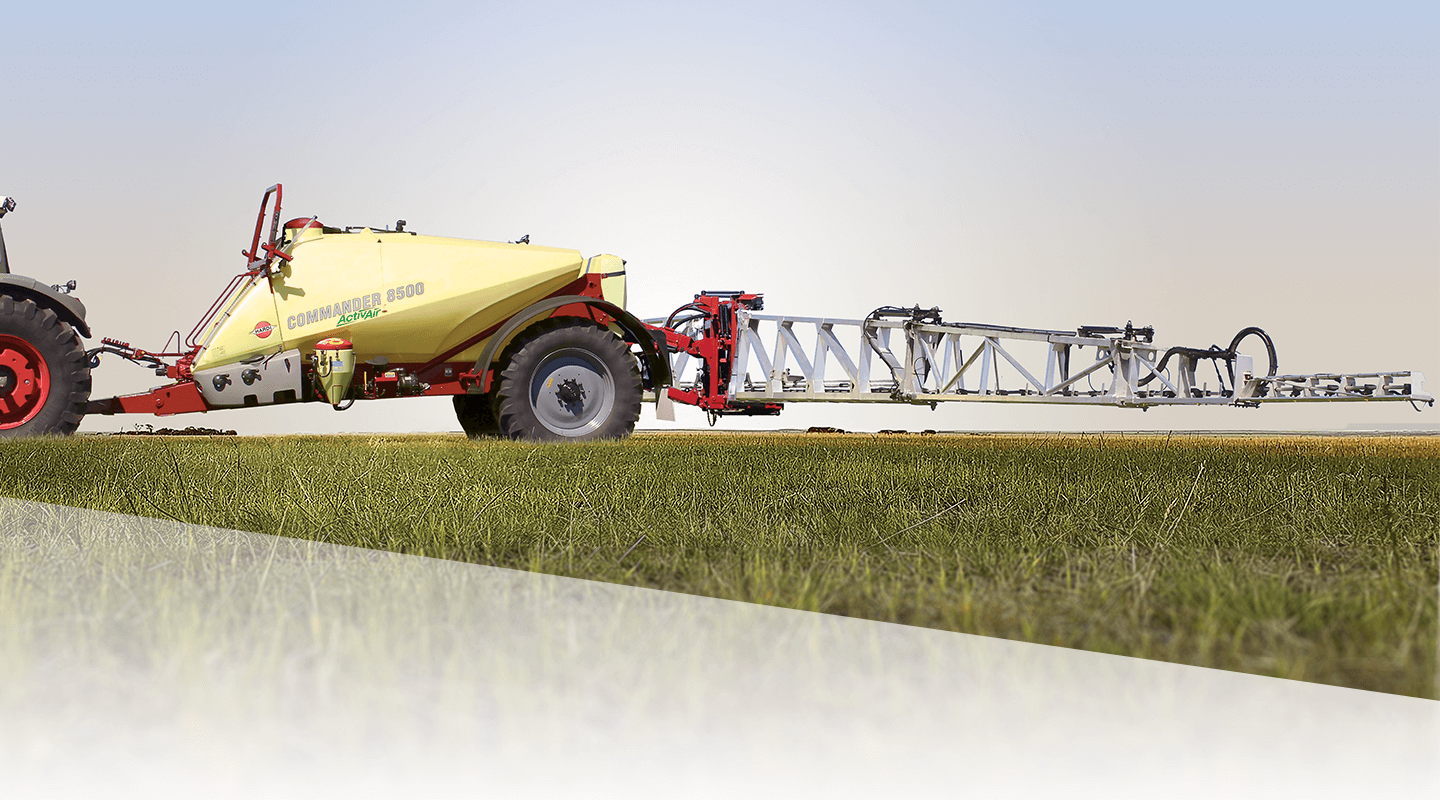 COMMANDER
Tank Capacity
6500 / 8500 / 10000 l
Boom Types
FORCE, TERRA FORCE, PARAGON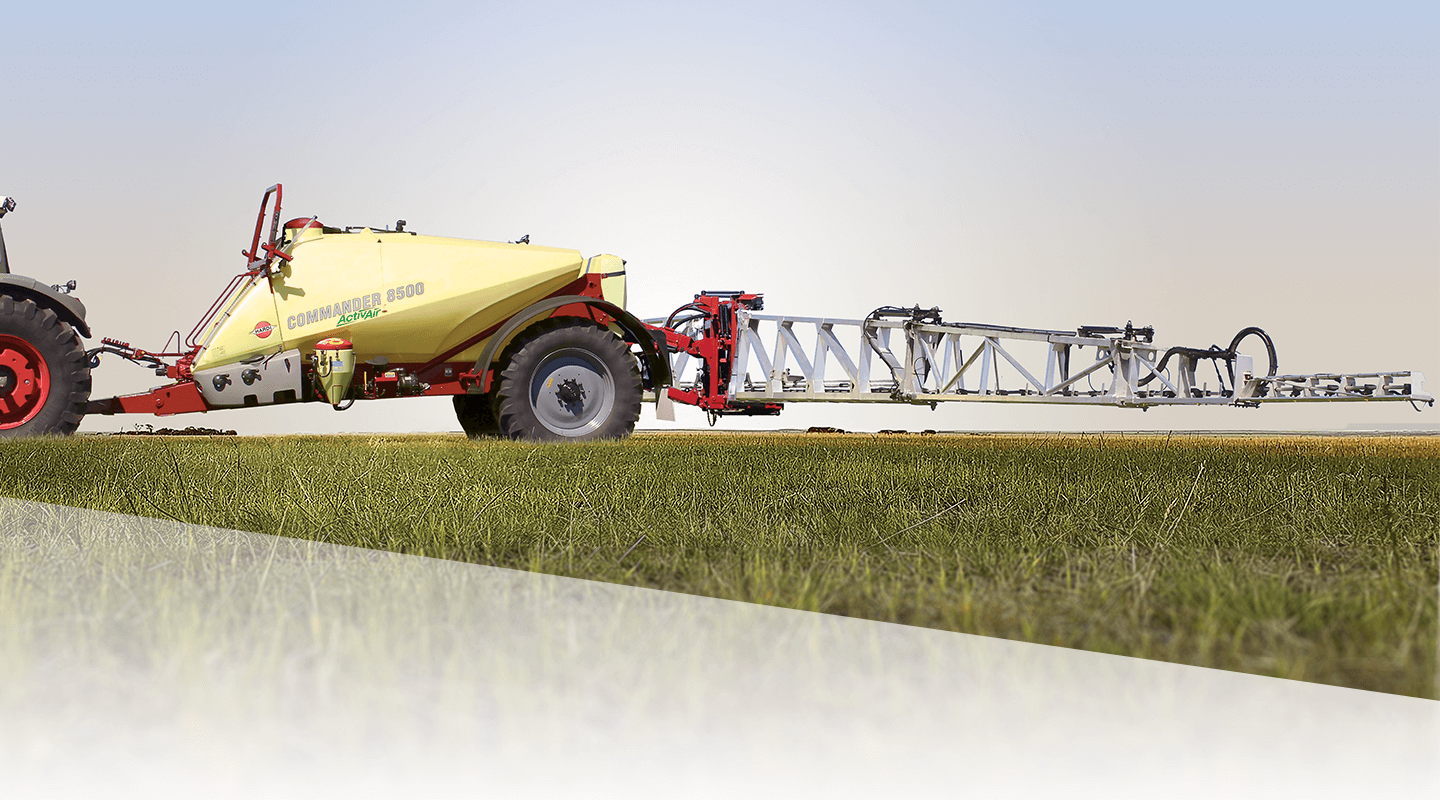 Tank Capacity
6500 / 8500 / 10000 l
Boom Types
FORCE, TERRA FORCE, PARAGON
Intuitive touchscreens
HARDI's HC 8600 and HC 9600 spray controllers keep all vital spraying functions at your fingertips. By combining a robust and bright colour touchscreen with multi-function joystick, these controllers deliver the highest levels of performance.
The HC 8600 and HC 9600 are both fully ISOBUS compatible and can be used to control a variety of intelligent machine functions such as AutoWash and PrimeFlow, or the owner can control the sprayer via their preferred ISOBUS terminal.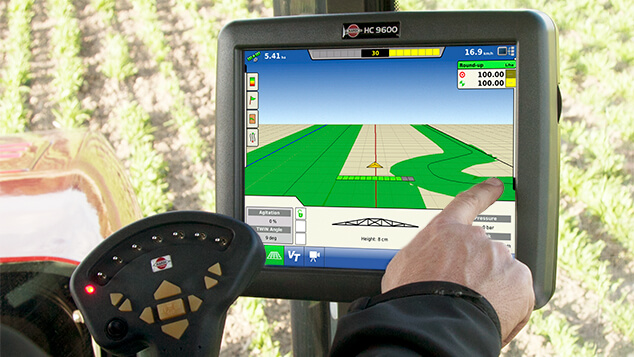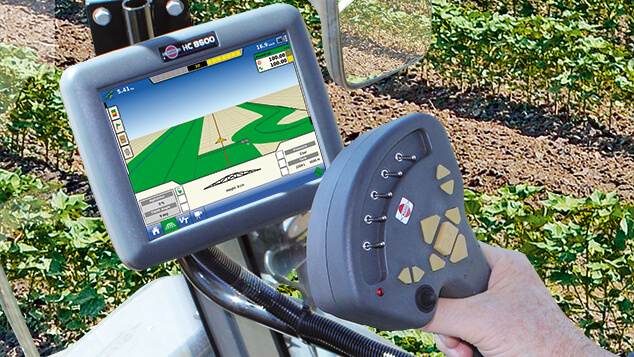 HC 8600 / HC 9600
The HC 9600 and HC 8600 controllers have similar features - the HC 9600 using a high-definition 12.1" touchscreen and the HC 8600 using a more compact 8.4" touchscreen.
Both controllers display intuitive tools and real time mapping, as well as guidance, data logging, application reports, GPS controlled spraying, automated steering and more.
Having a single, integrated and purpose-designed workscreen makes it easy to manage critical spraying functions such as GeoSteer, AutoTerrain/ AutoHeight/AutoSlant and AutoSection Control, as well as guidance and dosing.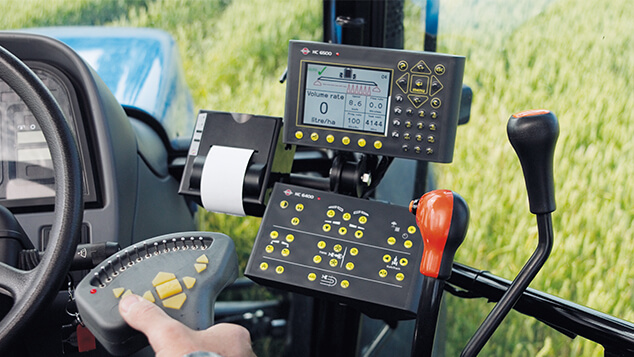 HC 6500
The HC 6500 is a purpose-built spray computer designed by HARDI, for HARDI sprayers. The colour display gives a clear, up-the-minute picture of the spray job, and all commonly used function switches are grouped onto the HARDI JoyStick for easy operation.
For simplicity, the HC 6500 connects to the tractor via a single cable.
Secondary spray and boom functions, such as AutoSlant, AutoHeight and AutoTerrain, boom folding, and more can be controlled through a co-mounted HC 6400 switchbox.
DynamicFluid4
DynamicFluid4 (DF4) is a powerful, pre-emptive pressure controller that ensures fast, precise control of the spray application rate.
Using four auto-redundant sensors to monitorifluid pressure, fluid flow, pump rpm and its own valve position, the DF4 controller detects changes that will affect flow at the nozzles (an rpm change, for example) and proactively adjusts system pressure to compensate.
With response rates that far exceed stringent European requirements, DynamicFluid4 is ideal for maintaining target rate through speed changes, cornering, AutoSection switching and turning in headlands.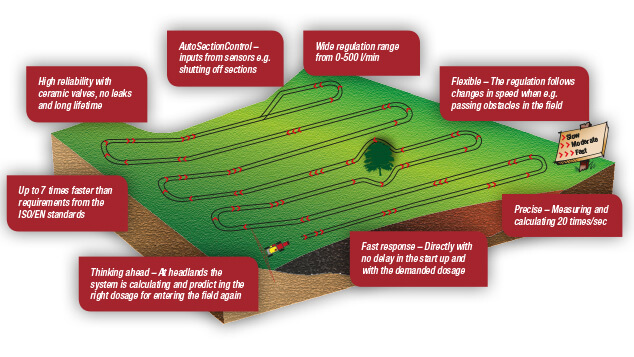 EFC boom section valves
The ElectricFastControl (EFC) is a modular system with a positive drive motor valve for each section, plus a single pressure dump valve for when all sections are selected OFF.
The system provide simple, effective pressure to each boom section, and relieves line pressure to the nozzles when a section is switch off. This results in instant shut-off at the nozzles, with no pressure to force drips or leaks.
The EFC does not require pressure equalisation or any other form of adjustment.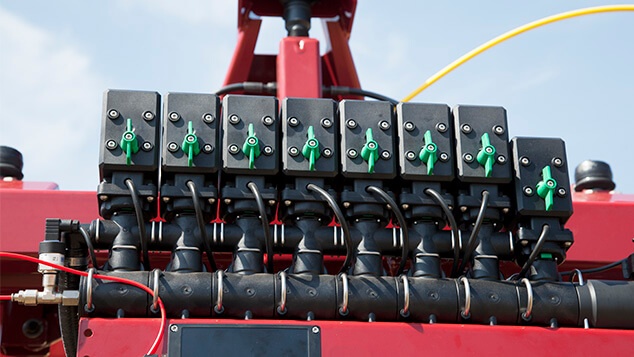 AutoWash
The AutoWash feature gains maximum cleaning effect from the rinse water. Up to six rinse circles reduce residual concentration to a very low level, so there is virtually no risk of left over chemicals contaminating the next spraying job.
AutoWash can be activated from the HC 9600 or the FluidBox controller.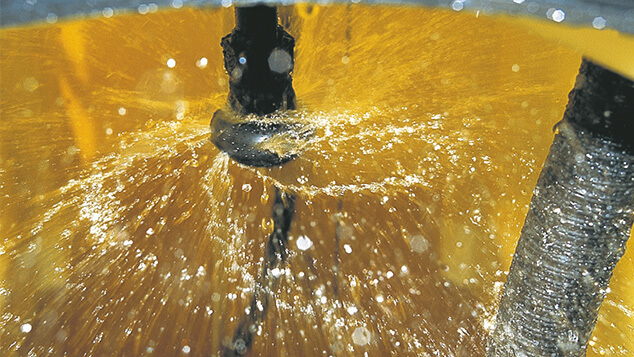 AutoAgitation / TankGauge
AutoAgitation is a standard feature with AutoFill and/or AutoWash.
When filling, AutoAgitation ensures maximum Fast-Filler capacity. The computer then regulates agitation to prevent foaming and minimise liquid residues as the tank is emptied. Different program can be selected for optimal agitation and a manual override is possible from the FluidBox.
TankGauge is an electronic tank contents sensor with which displays the tank content level on the HC 9600. A warning for low tank level can also be set up. This feature is included with AutoAgitation.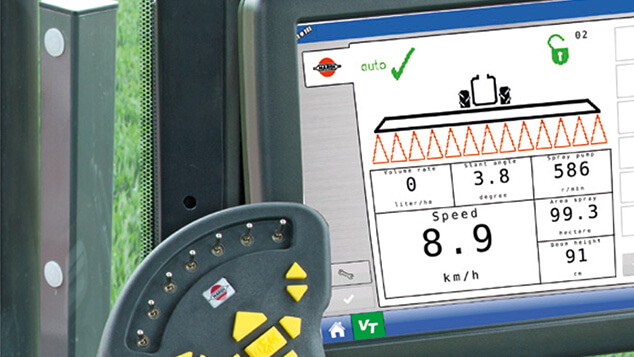 AutoSectionControl
AutoSectionControl automatically opens and closes boom section to avoid repeat spraying when passing over a sprayed area - such as in headland or while avoiding obstacles in the field.
The HC8600 and HC9600 both have AutoSectionControl as a standard feature and only need to be connected to a GPS receiver. When spraying, the AutoSectionControl will automatically record the areas that have been sprayed then close sections as the boom passes back over the same ground.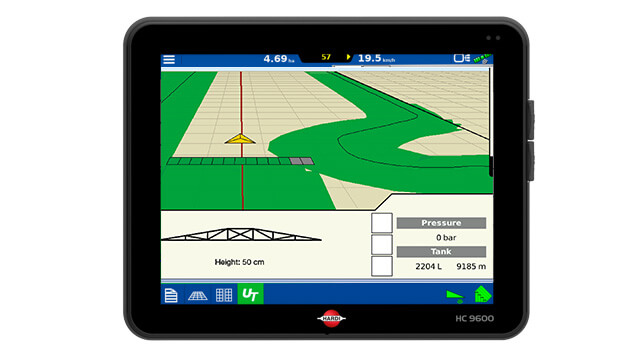 PrimeFlow
PrimeFlow is a pressure based system for curculating liquid to the nozzles before actual spraying starts. It prevents sedimentation and permits flushing the boom lines without spraying onto the ground.
Nozzles per boom section can be configured to the spray job, and these sections can be reconfigured as needed.
The controls are at the nozzle, which is ideal for making effective use of RinseTank water when cleaning the sprayer in the field.