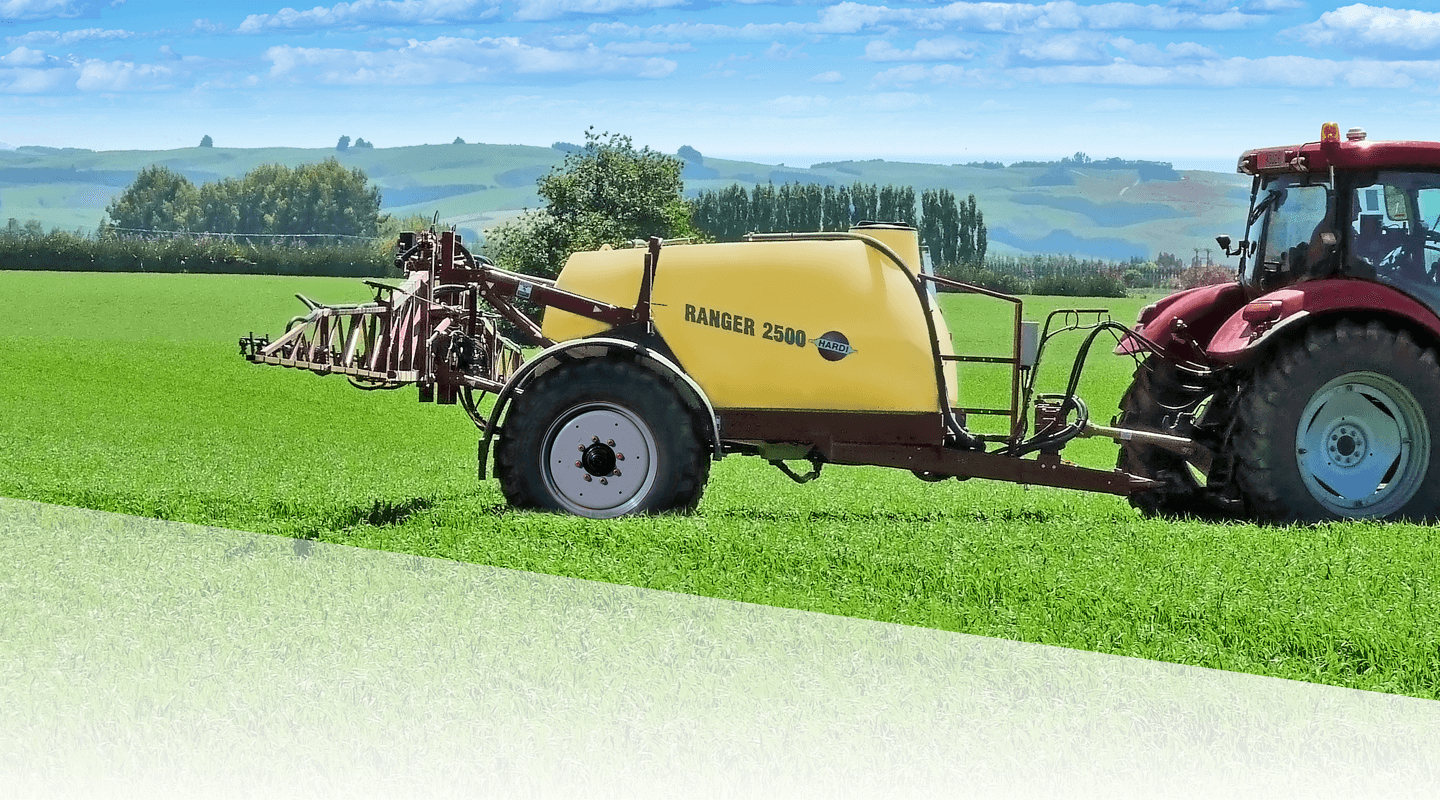 RANGER
Boom Types
EAGLE, FALCON, TWINSTREAM, HYS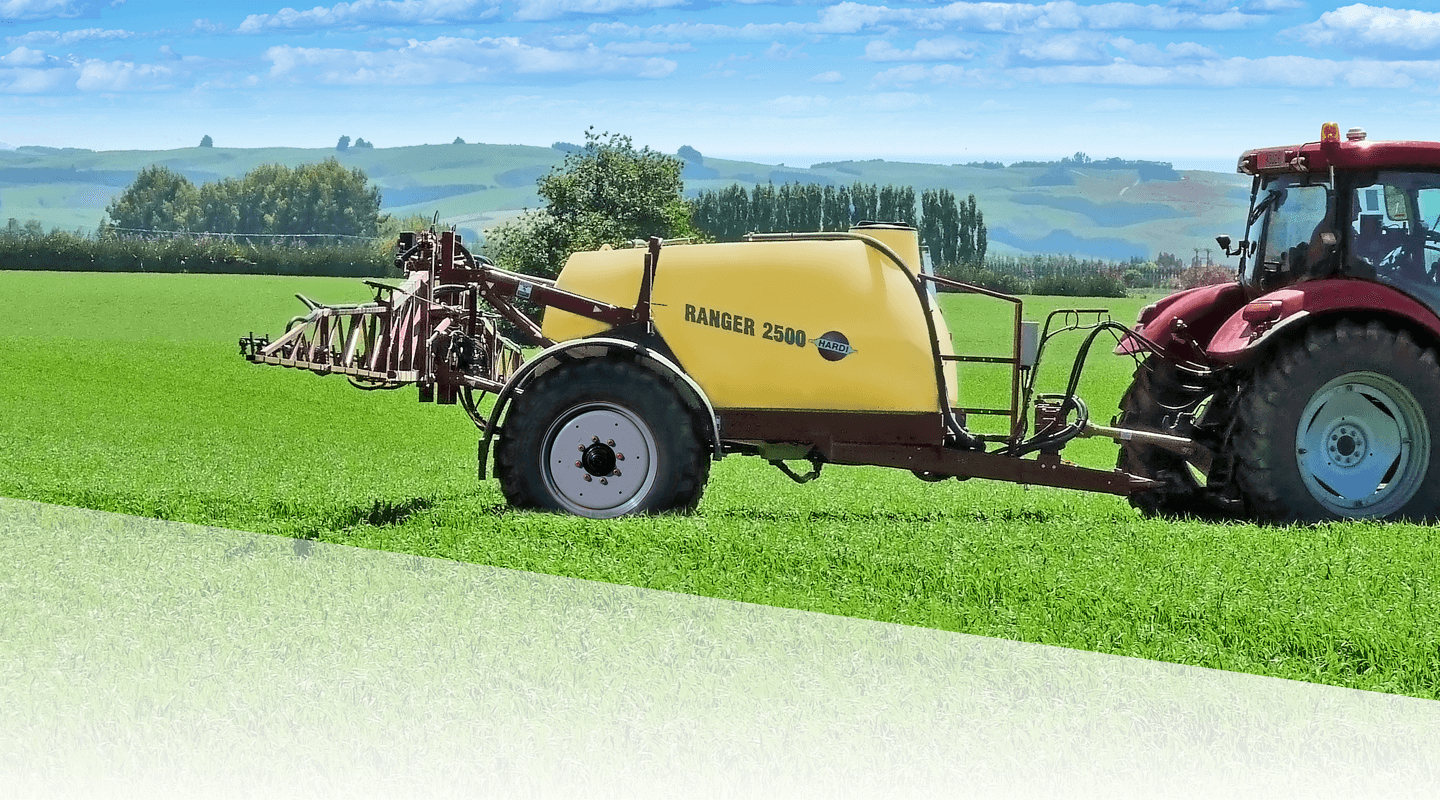 Boom Types
EAGLE, FALCON, TWINSTREAM, HYS
Class-leading features
Designed to meet the need for a simple and reliable sprayer, RANGER's success has been proven around the world since it was introduced in 2007.
The small, compact trailed sprayer has consistently lead its class by combining a wide rnage of features with easy operation and maintenance.
Intelligent tank and frame design deliver strength and stability, while quality components ensure high performance and ultimate durability. A wide choice of booms means the sprayer can be set up for almost any type of operation.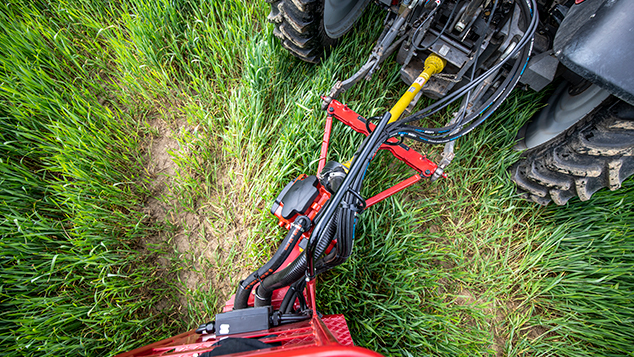 SelfSteer
SelfSteer is a simple mechanical steering system with low maintenance and no operation or setting required by the operator during the spray job.
The system is coupled to the tractor's 3-point hitch and gives better tracking on headland.
SelfSteer can also be equipped with slope correction, which is manually operated directly from the tractor's hydraulics to help SelfSteer stay in the tramline in hilly conditions.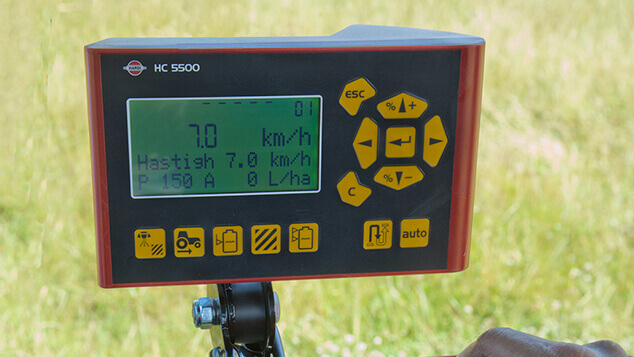 HC 5500 Controller
The HC 5500 is a versatile spray computer that supports multiple connections, data inputs, sprayer functions and control to make spraying easier, safer and more precise.
The LogicMenu makes it easy to get vital information quickly, and adjust the spray rate on the move.
The HC 5500 can also be integrated with a HARDI SprayBox III to add fingertip control offunctions like spray pressure, boom section activation and more.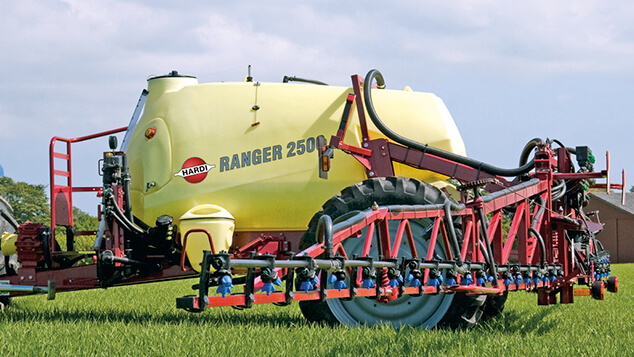 Easy, efficient work zone
The RANGER work zone gathers all of the sprayer's primary functions into easy-to-reach positions. Everything needed to operate the sprayer is located in the one area, with a clear and logical layout.
The pump manifold system is used to switch between operating features such as tank rinse, tank flushing nozzle and TurboFiller.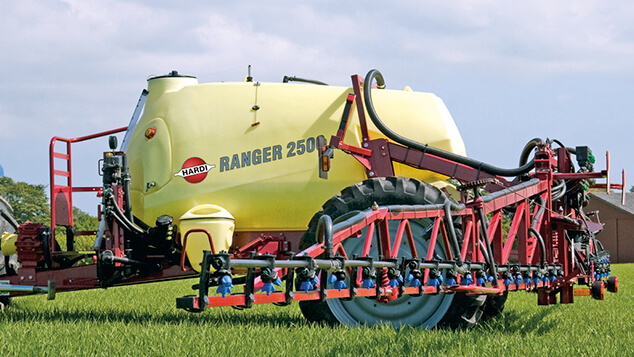 Boom choices from 12 m to 24 m
RANGER can be equipped with a range of robust steel HARDI booms, to provide an ideal spraying solution for everything from small row crop plots to large, uneven paddocks.
HYS - simple 12 m steel boom with hydraulic folding action.
FALCON - strong, light, two-dimensional steel boom with coil spring boom suspension, available in 12.4 m, 14 m, 15 m, and 16.5 m widths.
EAGLE - Rugged, wide booms with coil spring self-stabilizing trapeze suspension for years of relaible service. Available in 18 m, 20 m, and 21 m widths.
TWINSTREAM - HARDI's unique air-assisted boom system from 20 m to 24 m, offering unrivalled plant coverage and drift control in a wide range of weather conditions.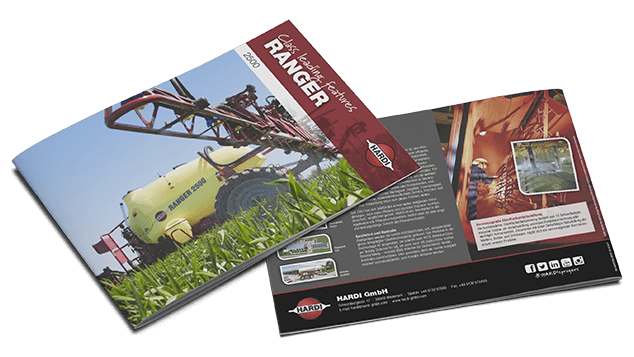 Get the RANGER brochure
See all the information about the RANGER including full specifications, in-depth information and much more!
Download your RANGER brochure
* Offer Terms and Conditions
1. To qualify for the offer, the retail customer must purchase a HARDI Ranger sprayer during the Promotion period ending 31 March 2020 2. Offer applies to new retail sales only 3. Saving applies to advertised boom widths 4. All prices are GST inclusive 6. HARDI reserves the right to update or change the terms at any time.
Specifications
Boom
HYS
FALCON
EAGLE
TWINSTREAM
Tank, l (net)
2500
2500
2500
2500
Pumps, type – l/min
1303 - 114 or 364 - 194
1303 - 114 or 364 - 194
1303 - 114 or 364 - 194
1303 - 114 or 364 - 194
Booms, m
12
12.5, 14, 15, 16.5
18, 20, 21
12, 15
Hydraulic outlets needed (Man.fold models)
1 single + 1 double acting**
1 single acting
1 single + 1 double acting**
1 single + 1 double acting**
Hydraulic outlets needed (Hyd. fold models)
1 double acting**
1 single + 1 double acting**
1 double acting**
1 double acting**
Weight drawbar (empty tank)*, kg
160
200
Weight axle (empty tank)*, kg
1,820
1,540
Weight total (empty tank)*, kg
1,880 - 2,100
1,880 - 2,100
1,740 - 1,880
1,880 - 2,100
Total length (steer / no steer), m
5.80 / 5.93
5.40 / 5,53
5.40 / 5.53
6.10 / 6.23
Total height, m
3.20
2.60
2.90
3.20
Width with boom in transport position*, m
02.40
2.55
2.98
02.40
Track width, m
1.50 – 2.00
1.50 – 2.00
1.50 – 2.00
1.50 – 2.00
Length draw to axle, m
04.35
3.95
3.95
04.35
Ground clearance, m
0.70 (11.2 × 38)
0.70 (11.2 × 38)
0.70 (11.2 × 38)
0.70 (11.2 × 38)
RinseTank (optional), l
250
250
250
250
Dimensions based on standard (14.9 x 28) tyre
**Extra outlets needed for Slant on Y version and for Slope correction
* Measurements: EAGLE 18 m, PRO 24 m
**Extra outlets needed for Slant on Y version, and for Slope correction
*** No steer / steer